Schalke players were attacked by their own fans when returning from Bielefeld after getting relegated from the Bundesliga.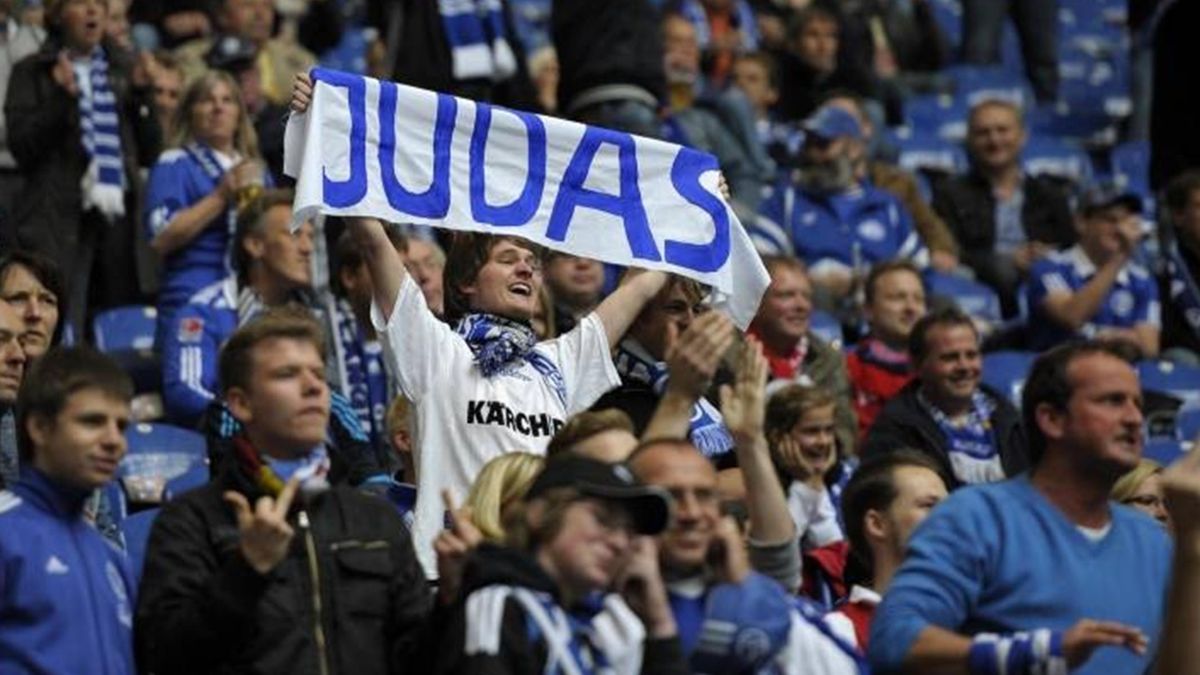 Gelsenkirchen police confirmed they were on site at the Veltins Arena as footage published on social media showed that fans chased some of the club's players on the stadium perimeters, and though police could not confirm the authenticity of the video, sources told ESPN those scenes were from early Wednesday morning.
On Tuesday, a 1-0 defeat at Arminia Bielefeld saw Schalke relegated for the first time in 30 years. With only four matches left, the Royal Blues are 13 points off the relegation playoff place.
READ ALSO: Florentino Perez Reveals Whether Chelsea, Madrid, Man City Will Be Kicked Out Of UCL Or Not Amid Super League Breakaway
Police were present as fan groups and the Schalke squad met for a "short notice exchange," the club said in a statement released on Wednesday.
Gelsenkirchen police said in a statement, also released on Wednesday, that "500 to 600 people" waited for the team at the Veltins Arena. When the players left the team bus "eggs were thrown at them and they were verbally abused," the police added.
"Police were on site with a strong force and were able to prevent a further escalation," the statement said, adding that investigations were still ongoing and "criminal as well as administrative offence procedures have been initiated."
READ ALSO: Top six clubs formally withdraw from SUPER LEAGUE over fans protests
"Some of our players had to spend the night in a hotel," Schalke sporting executive Peter Knabel said. "It's an absolute no-go. The most important thing now: How are the players? How are the staff?"
Meanwhile, quotes from an unnamed player:
"We were told loud and clear that we should be ashamed of ourselves and all the players, who won't be here next year, should f— off from now on," the player is reported as saying. "If that doesn't happen, life would be made a living hell for us.

"We were pelted with eggs, firecrackers went off and the situation escalated completely. The fans attacked us. We just ran. It was fear, pure fear! I was just running. Some of us got kicked and punched. I am shocked, and I don't know how we are going to compete in the next games. I also don't understand why we were exposed to the fans this way in the first place. The club said that there would only be a short exchange. Meanwhile, the police waited away from that situation."
READ ALSO: Bayern Munich Makes 18 Year old Camavinga Top Transfer Target
Schalke said "limits were overstepped" and "for all the understandable frustration and anger because of the relegation into Bundesliga 2, the club will never accept if the physical integrity of its players and staff is put at risk. But that is exactly what happened last night through the act of individuals."
Reports has it that the players were largely left unharmed and "got away with a few bruises."
Meanwhile, Borussia Dortmund ultra groups celebrated the relegation of their local rivals by setting off fireworks close to the Veltins Arena.